HMS Civil Rights Team Demonstrates Student Empowerment In Action
Joan Adler
Sunday, December 16, 2018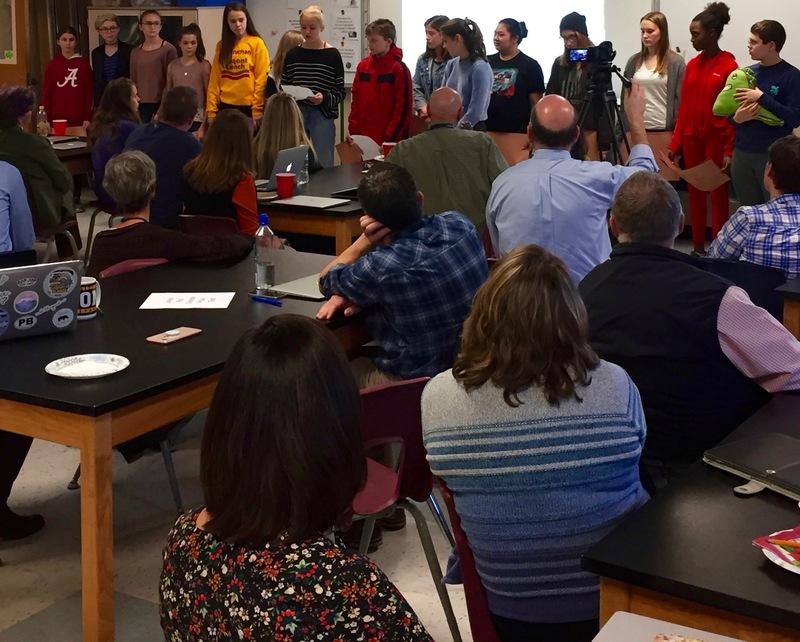 We want to share our gratitude and appreciation for members of the HMS Civil Rights Team, and the team's advisors, Ms. Mike and Ms. Agell.
The CRT joined the faculty meeting yesterday to share the courageous and inspiring presentation they created about the mission of the CRT, and the culture of our school. It was a privilege to hear our students' voices; we learned a lot from them. We are grateful for their commitment to the Civil Rights Team mission and we are looking forward to partnering with them on next steps.
We thank these students for their honesty and their dedication to creating a safe and welcoming environment for everyone in our school and community! Please check in with Ms. Mike, Ms. Agell, or members of the CRT if you would like more information about this team.
CRT Team Members:

Grade 8:
Ava Jutras
Eden Young
Finn Snow
Jocelyn Ruffner
Emma Sammon
Joshua Leinwand
Liv Powell
Grace Shi
Mark Zimmerman
Evie King
Isabella Bragdon
Zoe Domingue
Alla Elhai
Leila Tati Pambou
Pammie Morrill
Lerman Waiss
Piper York
Grade 7:
Mindy Skates
Ingrid Isaro
Bella Farnsworth
Grade 6:
Clare Arnold
Emaline Hill
Ana Tati Pambou
Eli Snow